ATP Class Reps
Click on any of the class tabs below to view the ATP Class Rep bios.

Chad Atkins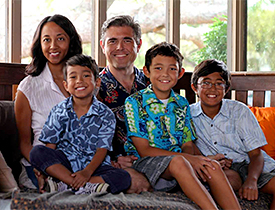 Aloha, Chad Atkins here and this will be my second year as an ATP Rep for the Class of 2020. My lovely wife Larni and I are very grateful to live in Pu'unui along with our three strapping young boys, Timothy, Nicolas, and Matthew.
I have been working in the construction industry for the last 18 years as an electrical designer, project manager, and estimator with a LEED AP designation. For the last 10 years, I have been with Boss Communication Technologies. I also work as an active real estate salesperson with Blue Ribbon Realty in my free time. Larni works as an assistant teacher at Pu'uhale Elementary School in Kalihi.
Our oldest, Timothy, will be starting his second year at Kapi'olani Community College. Nicolas has moved on from Paki and will start his senior year up at Konia. He is a trumpet section leader and learning leadership skills in Kalalea. He is also in Concert Glee and is looking forward to an eventful year. Matthew will start his second year at Stevenson Middle School and will be taught by the same band teacher his older brothers had when they attended Stevenson.
A little about me: I love Larni and my boys very much. 'Ohana is a very high priority for me. I really like coconut and dream about being an aviator someday. In the meantime, I work towards being an example as a man of God, and pledge to contribute all I can to support the Class of 2020 and hope this year will be dynamic and memorable for our haumana as they prepare for their new lives as good and industrious men and women.
---
Momi Nelson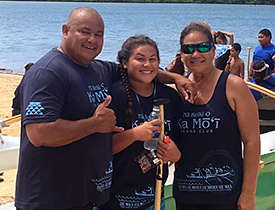 Trini, aka "Momi," is married to retired HFD captain Glin Nelson and mother of three children: Sedona-Ariz or "Kale'a" (KS 2020) is a thoughtful, bold, energetic and self-reliant young woman. Twila Kawai, who holds a Bachelor's in Social Work, works with parents and children at INPEACE. Kanaloa Kawai a skilled master carpenter and a put into play football coach at Wai'anae High School (Momi's alma mater). She is also a "grammie" to Jordhan, (KS 2021) & Jaedhan Spencer and Elana Kawai.
Momi previously served as 2020 class parent for two years in middle school. She is a former Early Childhood Parent as teacher educator working with families on the West side and is working towards finishing her Business Administrative/Hawaiian Studies degree this fall. She is also a small business owner which markets and educates others about sustainable trending products.
She is looking forward to serving class of 2020 as an ATP class rep. More importantly, honoring and serving Ali'i Pauahi in perpetuating her endowment vision. In her opinion, Pauahi was a model of "Aloha Aku, Aloha Mai" giving and sharing with aloha. She said, "If we emulate Pauahi's characteristics, we will pākōlea our own family legacy of contributing Hawaiian children."
Hence, a stronger life giving Lāhui o Hawai'i.
Terry Visperas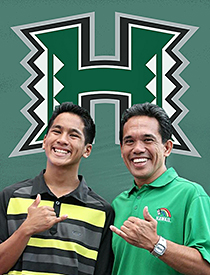 Aloha & Welcome Class of 2021 'Ohana! I'm Terry Visperas, dad to David "Nainoa" Visperas.
Thank you once again for this incredible opportunity to continue to serve as your co-ATP 2021 representative with Heather Stone-Kalani and Joe Awong, Jr. Together, we are honored to continue the energy and work that other 2021 ATP representatives have contributed over the years. Our goal continues to be building long-lasting friendships, positive 'OHANA experiences, and well-rounded teens. Together, we will fulfill the legacy of our beloved princess, PAUAHI.
Please get involved! Mahalo in advance to all of the "AMA21NG" 2021 families for participating and volunteering. With your kokua, our class advisor, and our awesome class parents, it's going to be another fun, busy and rewarding year!
---
Heather Stone-Kalani
Aloha!
Thank you for the opportunity to introduce myself. My name is Heather Stone-Kalani and my son, Bronson, is starting his third year at Kamehameha Kapālama. Our little 'ohana consist of my husband, Ka'aumoana, myself, Bronson (14), Uluhani (8), and Olivia (2).
My goal as an ATP rep is to create a welcoming environment for all of our 8th grade 'ohana while developing bonds that our students can strengthen from now until their last days at Kamehameha.
Please always feel free to reach out to myself or Terry so we can all make this year a success for our keiki.
Warmest Regards,
Heather
---
Joe Awong Jr.
Aloha! My name is Joe Awong Jr. and I am father to La'akea. I have been active with his education and sports since he was at Punana Leo O Kawaiaha'o.
I believe that the best thing about being an ATP class rep is being able to give back for what our Princess has given to us. Being an ATP rep has helped me share in my son's experience at KS and that is worth all the volunteering hours I put in.
This year my goal is to bring our 2021 class even closer together.
Ka'ula Atisano'e-Santos


Aloha! My name is Ka'ulaaloha Santos and this will be my 5th year serving as an ATP Representative for the Class of 2022. My husband Rory-James (KS ʻ00) and I reside in Kapolei with our four beautiful keiki, Kobe-James Kahekili (KS ʻ22), Liam-Elias Kamana'o (KS ʻ26), Elia-Teiah Manaia, & Joel-Silas Ka'aiali'ikoa.
Currently, I am a Kindergarten Educational Assistant at Ka Waihona o Ka Naau'ao Public Charter School while attending school to receive my teaching credentials. I love being a part of childrenʻs lives and am very proud to play a role in their maturation.
When our schedules arenʻt packed with school, soccer, basketball, or coaching, we enjoy hiking, watching movies, and hanging out with each other. We, the Santos 'ohana are honored and blessed to be a part of the Kamehameha 'ohana and look forward to growing a strong bond with the classes of 2022 & 2026!
Mahalo ke Ali'i Pauahi for the amazing opportunities that are made possible for the keiki of Hawai'i.
I Mua 2022!
Mahalo,
Ka'ulaaloha Santos
---
Rory-James Santos
Denice Iwamoto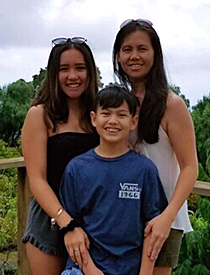 Aloha, my name is Denice and my son, Nicholas Ah Nee, and I have been graciously blessed to be a part of such a wonderful class. I am humbly honored and thankful for the privilege and opportunity to be an ATP representative for the class of 2023. I look forward to representing our class along side our other amazing ATP representatives and giving back to Ke Ali'i Pauahi for all that has been bestowed upon our children and our families.
It's going to be an amazing year filled with lots of laughs, great talks and many wonderful memories to cherish. Mahalo!
---
Sheri & Darren Nii
This is Sheri and Darren's first year as ATP class reps. They are parents to Caiya (KSK 2018) and Cyrus (KSK 2023). Their goal as ATP reps this year is to have fun making memories with the class.
Sheri's fave quote: "Alone we can do so little; together we ca do so much more" — Helen Keller
Darren's fave quote: "Success is best when it's shared" — Howard Schultz
Cheryl Chang
---
Pao-Chi Hwang
Pao-Chi and wife Gwendolyn are parents to Anzu (KSK 2024). They are grateful that their son is attending Kamehameha schools and would like to give back to the school.
Pao-Chi would like the eighth grade class to come together to participate in some fun events that promote education, service to the community, and learning about the Hawaiian culture. He would like to remind the 8th grade parents to be thankful and set some time aside to give back to KS.

Joy Tangonan-Watson
Joy and her husband of 18 years, Kalani, are parents to two keiki: Kylen (KSK 2025) and Camden (KSK 2028). They are excited to be a part of KSK and are always ready to help and support.
This is Joy's first year as a ATP class rep. Her goal for the class this year is to make opportunities for all the families to get to know one another through bonding activities and outings. She looks forward to working with the grade level parents in making amazing memories for our kids and families.
---
Tiare Kaoleopono
Christine (Ulu) Dash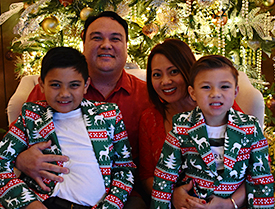 Aloha 'Ohana 2026!
I am Christine "Ulu" Dash (KS '92) & I am blessed to be able to serve our class for a third year. My husband Mike (KS '95) & I have two awesome boys, Dakota (KS 2026) and Drew (KS 2031).
I enjoy being an ATP Rep because it provides the opportunity to do my part in lifting the lahui in support of our childrens academic, social & emotional well-being. They are fortunate to be beneficiaries of Pauahi's Legacy and have seven more years together to build relationships and connections, we can strengthen their futures by providing the best experiences we possibly can! She would like to communicate and establish relationships with the 6th grade teachers so they can rely on the ATP reps as a means for communicating between KES and our 'ohana. She'd also like to have kumu attend a class event as she feels it makes the keiki so proud to see their kumu interact outside of the class environment. She has many other ideas for the class to come together and work as a team.
"Each child, belongs to all of us and they will bring us a tomorrow in direct relation to the responsibility we have shown to them." — Maya Angelou.


---
Hanae Gouveia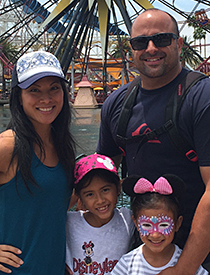 Aloha! My name is Hanae and this will be my fourth year serving as Class of 2026 ATP representative. My husband Keli'i and I have two daughters, Camryn (KS 2026) and Cara (age 7). We keep ourselves busy with soccer, volleyball, hula, Tahitian, and spending time with family and friends!
The 2026 ATP team is looking forward to planning an awesome year of fellowship, service, and fun!
---
Michele Cadiente-Cargo
This is Michele's first year as ATP class rep. She and her husband Sev are parents to Macey (2020) and Connor Dane (KSK 2026). They are thankful for the opportunity to have Connor Dane attend Kamehameha and feel that this is a great way to get involved and give back.
Michele's goal for this year is to continue building the relationships between our families and to encourage more families to get involved because it really does take a village.
She says "We are our children's first teachers. Let's grow and learn together with our keiki as we graciously accept this opportunity to be part of the Kamehameha 'ohana."
---
Kae Sueda
Gigi Velasco
---
Aulani Shiu
---
Carole Kaili Daly
Alisa Onishi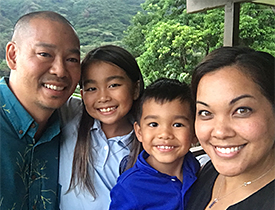 Aloha! This is my second year as an ATP rep. I learned a lot last year and hope to make this year even better.
Brandon and I have been married for 11 years and love spending time with our keiki, Callie and Colten, and our pomsky Mochi Lei. As a family we love traveling, fishing, kayaking and going to the beach. As an alum and now as a parent of two keiki at Kamehameha, I am forever indebted to Pauahi and will continue to serve her and her mission through ATP or any means possible.
Our 2028 parents are amazing and a ton of fun. We look forward to welcoming our new families to our 2028 'ohana this year!!
Alisa says to "take every opportunity to participate in events and activities. It's a great way to be involved in your keiki's journey at Kamehameha and a way to give back to Pauahi and all that she has provided us."
---
Nicole Au
Kristi Chong
---
Nainoa Chong
Nainoa is father to Sieri (KSK 2028) and Reiis (preschool). He believes the best thing about being an ATP class rep is the exposure and experience he gets. He just wants the class to have fun together. IMUA!
---
Rebecca Chong
Rebecca is mother to three keiki: 'Auli'i (KSK 2028), Kāpena (KSK 2025) and 'Ilikea (preschool). This year, Rebecca's goal as an ATP class rep is to allow haumana to bond outside of school environment and is looking forward to get to know all the families.
---
Kaulana Vares
Brandi Ahlo
---
Shantel Saito
---
Angela Kim
Christina Hambaro
Aloha 2031 'Ohana,
My name is Christina Hambaro and it is a privilege and blessing to be a class ATP rep again this year. My husband Joshua and I have four children: Kawailani (Marist NY Alumni), Jasmine (Sophomore Umass Amerist), Sage (5th grader at Adventist Malama) and Skye (KS 2031). We enjoying doing life together traveling, dancing hula, playing piano, and just making awesome memories.
Our team goal is to unite our first graders to be friends that turned into family. I am looking forward to planning a fulfilled and exciting year.
Brittany Hopkins
Brittany and her husband Nainoa are parents to two keiki, Kana'i (KSK 2032) and Presley (preschool). She is looking forward to supporting her son's journey at KS while getting to know the other families, having fun, and building the foundation for lifetime relationships! She is excited to learn more about ATP and work towards having a successful school year! IMUA 2032!
---
Carla Santos
---
Keola Santos