ATP Class Reps
Click on any of the class tabs below to view the ATP Class Rep bios.

Lynn Akeo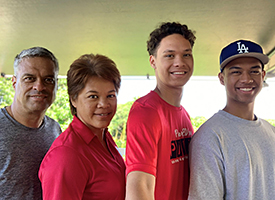 Aloha KSK 2022 'Ohana:
My name is Lynn Akeo. I am honored to serve as your ATP Class Rep. My husband, Dale and I have two sons, Louis (KSK 2019) and Joseph (KSK 2022). We have previously served as Class Parents.
We look forward to creating opportunities for our families to get together and build long lasting relationships. We will continue to work closely with our class advisor and class parents to keep you informed of school events so that you can be a part of your child's Kamehameha experience.
We will never out give what Pauahi has given to us.
---
Joe Awong Jr.
---
Amalie Monlux
Denice Iwamoto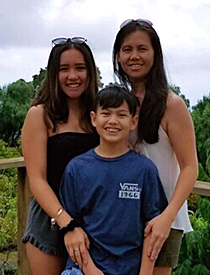 Aloha, my name is Denice and my son, Nicholas Ah Nee, and I have been graciously blessed to be a part of such a wonderful class. I am humbly honored and thankful for the privilege and opportunity to be an ATP representative for the class of 2023. I look forward to representing our class along side our other amazing ATP representatives and giving back to Ke Ali'i Pauahi for all that has been bestowed upon our children and our families.
It's going to be an amazing year filled with lots of laughs, great talks and many wonderful memories to cherish. Mahalo!
---
Sheri & Darren Nii
This is Sheri and Darren's second year as ATP class reps. They are parents to Caiya (KSK 2018) and Cyrus (KSK 2023). Their goal as ATP reps this year is to have fun making memories with the class.
Sheri's fave quote: "Alone we can do so little; together we ca do so much more" — Helen Keller
Darren's fave quote: "Success is best when it's shared" — Howard Schultz
Aukai Lucas
---
Kalani Watson
Christine (Ulu) Dash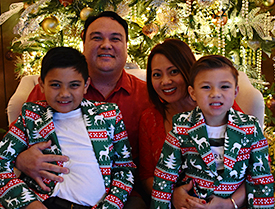 Aloha 'Ohana 2026!
I am Christine "Ulu" Dash (KS '92) & I am blessed to be able to serve our class for a fourth year. My husband Mike (KS '95) & I have two awesome boys, Dakota (KS 2026) and Drew (KS 2031).
I enjoy being an ATP Rep because it provides the opportunity to do my part in lifting the lahui in support of our childrens academic, social & emotional well-being. They are fortunate to be beneficiaries of Pauahi's Legacy and have seven more years together to build relationships and connections, we can strengthen their futures by providing the best experiences we possibly can! She would like to communicate and establish relationships with the 6th grade teachers so they can rely on the ATP reps as a means for communicating between KES and our 'ohana. She'd also like to have kumu attend a class event as she feels it makes the keiki so proud to see their kumu interact outside of the class environment. She has many other ideas for the class to come together and work as a team.
"Each child, belongs to all of us and they will bring us a tomorrow in direct relation to the responsibility we have shown to them." — Maya Angelou.


---
Grant Kupono
---
Michele Cadiente-Cargo
This is Michele's second year as ATP class rep. She and her husband Sev are parents to Macey (2020) and Connor Dane (KSK 2026). They are thankful for the opportunity to have Connor Dane attend Kamehameha and feel that this is a great way to get involved and give back.
Michele's goal for this year is to continue building the relationships between our families and to encourage more families to get involved because it really does take a village.
She says "We are our children's first teachers. Let's grow and learn together with our keiki as we graciously accept this opportunity to be part of the Kamehameha 'ohana."

Nicole Au
---
Dawn Sugikawa
---
Kae Sueda
Kristi Chong
---
Nainoa Chong
Nainoa is father to Sieri (KSK 2028) and Reiis (preschool). He believes the best thing about being an ATP class rep is the exposure and experience he gets. He just wants the class to have fun together. IMUA!
---
Kammy Chong
---
Michoriann Hudgens
Jamie Makua
---
Angela Kim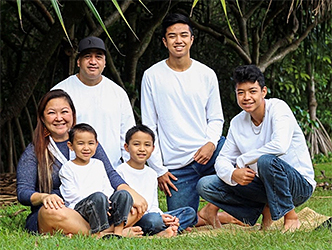 ---
Jenn Wells
Christina Hambaro
Aloha 2031 'Ohana,
My name is Christina Hambaro and it is a privilege and blessing to be a class ATP rep again this year. My husband Joshua and I have four children: Kawailani (Marist NY Alumni), Jasmine (Sophomore Umass Amerist), Sage (5th grader at Adventist Malama) and Skye (KS 2031). We enjoying doing life together traveling, dancing hula, playing piano, and just making awesome memories.
Our team goal is to unite our haumana to be friends that turn into family. I am looking forward to planning a fulfilled and exciting year.
---
Sonyei Hijirida
Brittany Hopkins
Brittany and her husband Nainoa are parents to two keiki, Kana'i (KSK 2032) and Presley (preschool). She is looking forward to supporting her son's journey at KS while getting to know the other families, having fun, and building the foundation for lifetime relationships! She is excited to learn more about ATP and work towards having a successful school year! IMUA 2032!
---
Laura Hudgens
---
Shannon Yogi-Lee
Kaiewa Muanaka
---
Cindy Pila
---
Cathryn Langan
Sara Wong
---
Kalina Villa