ATP Officers
Click on any of the tabs below to view the ATP Officers bios.

Nadine Jacang (President)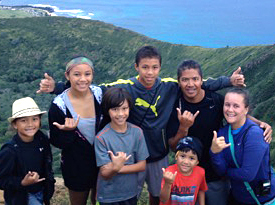 My name is Nadine Jacang and I am honored to be serving as your ATP president for the 2018-2019 school year. My husband David and I reside in Ewa Beach along with our five keiki: Kawika (KSK2017), Karina (KSK 2019), Kanoa (KSK 2021), Kainani (KSkK 2023) and Kainalu (KSK 2027). While this will be Karinaʻs final year up on the hill (SENIORS RULE) this is Kainaluʻs first year (HE GOT IN)! Pauahi has blessed our ʻohana tremendously.
Besides being part of ATP, I am also the KES STEAM teacher and Robotics coach, as well as a spectator/cheerleader for basketball, softball, soccer, cross country, and track (my keiki sports).
I am beginning my 9th year as a part of the ATP organization and I look forward to being one of the parent voices that can bring your questions, concerns, etc. forward to help make Kamehameha Kapālama the best it can be.
In this year of so many changes up on the hill, I look forward to bringing our KSK community together at Relay for Life (Sept. 29), ATP General Meeting (Oct. 18), and Hoʻolauleʻa (Feb. 23).
Letʻs come together as one ʻohana, mālama our Kapālama campus, and kokua where we can to make "the hill" an amazing place for our keiki to live and learn.
Mahalo!
I MUA Warriors!
Darren Nii (Vice-President – Ho'olaule'a)
Terry Visperas (Vice-President – KMS/KHS)
Alisa Onishi (Vice-President – KES)
Jamie Tanoura (Recording Secretary)
Sherri Nii (Corresponding Secretary)
Sonyei Hijirida (1st Secretary)
Hanae Gouveia (2nd Secretary)