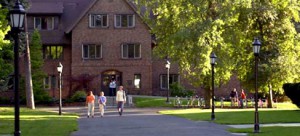 Founded in 1890, Whitworth University is a private, residential, liberal arts institution affiliated with the Presbyterian church, located in Spokane, Washington.
Whitworth University's first-to-second year retention rate is 85%, and 85% of its graduates receive their Bachelors degrees do so in four years.
Recognized as one of the top regional colleges and universities in the west, Whitworth University has an enrollment of 3,000 students and offers 60 undergraduate and graduate degree programs.  Bachelor degrees are offered in a variety of disciplines, including Kinesiology, Theology, Business, Education, Nursing, and more.  Programs also include pre-Medicine, pre-Law, pre-Veterinary, and pre-Physical Therapy.
Known as the Whitworth Pirates, Whitworth University is a NCAA Division III school and offers a full range of both men and women's sports.
Check out what Whitworth University has to offer you!