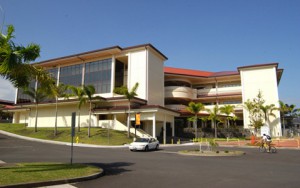 The University of Hawaiʻi at Hilo is a growing university of 4,000 students that offers a wide range of liberal arts and professional programs, as well as a number of graduate and doctoral programs. We are looking to the future and preparing our students to make lifelong contributions to their communities and help build a prosperous future.
UH Hilo offers an exceptional campus and island setting in which to live and study. The university community enjoys a rich diverse student population, with a unique blend of local, mainland and international students, all living and learning together in a harmonious and safe environment. The surrounding island community, rooted in an agriculture history, is one of the most ethnically diverse in the country.
The unique diversity in culture and geography makes Hawaiʻi Island the perfect "living laboratory" in which to teach, learn and do research:
Their nursing, teaching and computer science, pharmaceutical sciences and other key programs are strong and growing.
Their interdisciplinary STEM programs—astronomy, math, chemistry, biology, marine science and more—make their graduates much more flexible in taking advantage of limited opportunities.
Their humanities disciplines are in synch with the local community's need for professionals in culture and the arts, language and communications.
Their agricultural programs are addressing the pressing need for the state of Hawai'i to move toward sustainable food systems.
Their business and economics program offers one of only two AACSB-accredited business administration degree programs in the state of Hawaiʻi.
UH Hilo offers over 40 bachelor degrees, including majors in Administration of Justice, Agriculture, Anthropology, Hawaiian Studies, Kinesiology & Exercise Studies, Marine Science, Nursing, Pharmacy Studies, and Performing Arts.  And UH Hilo's Vulcan athletics have five men's varsity sports and seven women's varsity sports – as well as intramural sports – in which students can participate.  UH Hilo also promotes a healthy lifestyle for its students, offering students the use of its Student Life Center. This beautiful facility consists of nearly 23,000 square feet of indoor fitness/recreational rooms, a cardio and weight room, dance and aerobics rooms, a lounge with wireless internet, an indoor cafe', locker rooms, an Olympic-sized swimming pool, and an open deck by the swimming pool.
Take a closer look at UH Hilo – you just might be surprised at what it can offer you.  For more information, visit their website at www.hilo.hawaii.edu.