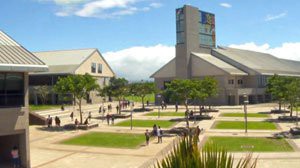 Since 1976, the University of Hawai'i – West O'ahu has served the people of Hawai'i and remains a dynamic and diverse place of learning and cultural enrichment. Formerly West O'ahu College, the university has evolved from a two-year baccalaureate institution to a four-year comprehensive University with academic programs that emphasize the exploration of interdisciplinary and cross-cultural studies. Founded in the liberal arts, UH West O'ahu is committed to quality teaching and an environment that fosters life-long learning.
UH West O'ahu is located in the City of Kapolei on the island of O'ahu. The average enrollment is about 2,700 students via on-campus and distance learning. The University offers six bachelor's degree programs in 32 areas of study as well as seven certificate programs.  Some of their majors include Business, Hawaiian-Pacific Studies, Disaster Preparedness & Emergency Management, Elementary & Secondary Education, Sustainable & Community Food Systems, Culinary Management, and many more!
Take a moment to look further at this campus … you might be surprised at what you'll find!  Visit their website at www.uhwo.hawaii.edu today!