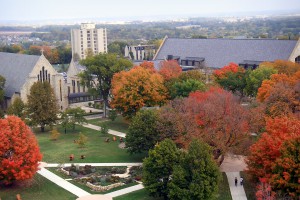 This week we head to Minnesota to learn about St. Olaf College! St. Olaf College is one of the nation's leading liberal arts colleges, offering a distinctive education driven by academic rigor, a dynamic residential learning community, a strong sense of global engagement, and a vibrant Lutheran tradition. With 3,100 students, St. Olaf has the size to provide a wide range of programs and resources, but is still small enough to foster close friendships built on shared experiences.
Founded in 1874 by Norwegian Lutheran immigrants, St. Olaf continues to advance the character, values, and traditions of its founders: intellectual rigor, commitment to community, and an interest in global issues. Over the years, the education St. Olaf offers has grown more complex, keeping pace with the needs of society and the interests and skills of students. While traditional departments and majors remain strong, interdisciplinary programs are growing campus-wide. The college encourages and supports student curiosity and initiative.
St. Olaf students and faculty are increasingly diverse in background and outlook, reflecting the changing demographics of the 21st century, the dynamic impact of the world's great religious traditions, and the new frontiers of human knowledge. The college's academic program engages students in a wide range of high-impact educational experiences in and beyond the classroom, including hands-on student-faculty research, internships, volunteer service and civic engagement, study abroad, and special cohort-based learning communities such as the college's signature Conversation programs.
The combination of strong majors, a broad curriculum, and extensive programs to link learning to "real-world" experiences, means a St. Olaf education prepares students to graduate with clear direction and a sense of purpose.  Some of its many varied majors offered include American Racial & Multicultural Studies, Economics, Exercise Science, Medieval Studies, Pre-Professional Studies (Engineering, Dentistry, Architecture, Law, Medicine), Nursing, and Dance.
St. Olaf College is located in Northfield, Minnesota, a two-college town of 20,000 people just 35 miles south of Minneapolis-St. Paul, and has one of the most beautiful and well-equipped campuses in the country.
St. Olaf College is featured in Loren Pope's book, "Colleges that Change Lives."
For more information about St. Olaf College, visit their website at www.stolaf.edu.