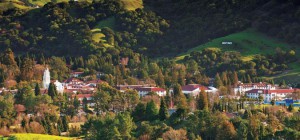 Saint Mary's College of California is a Catholic liberal arts college, rooted in the life and work of Saint John Baptist de La Salle, founder of the Christian Brothers and the patron saint of teachers. They are committed to social justice, respect for all persons, and the power of education to transform lives.  Saint Mary's was founded in 1863, one of the oldest schools in the West, but their feet are planted firmly in the 21st century on a foundation of strong values.
The Saint Mary's campus is picturesque and welcoming, nestled in the Moraga Valley 20 miles east of San Francisco, and is one of the oldest colleges in the West.
At the heart of their curriculum is Collegiate Seminar, in which undergraduates read and discuss great works and learn how to listen.  They operate on a 4-1-4 calendar schedule, which means that during January term students can travel to entirely different points on the globe, lend a hand to others, explore new ideas or take a courageous step towards personal change.
Saint Mary's offers 40 academic majors and its undergraduate degrees include anthropology, education, kinesiology, economics, and biochemistry.  With only 2,800 students and a current freshman class of less than 600, Saint Mary's offers a student to faculty ration of 19:1.  The faculty at Saint Mary's is the best of the best – 95% of full-time faculty at Saint Mary's holds a doctorate degree.
Saint Mary's is an NCAA Division I school, with a long list of athletic teams for you to participate in. Intramural sports are also available for students who just want to have fun without the pressure of being on an athletic team. Here's an interesting tidbit:  the Gaels (as they are known) just completed its inaugural season of sand volleyball, and ended the year ranked 9th in the nation!
Saint Mary's College of California is named in Loren Pope's book, Colleges That Change Lives.  For more information about Saint Mary's, visit their website at www.stmarys-ca.edu.