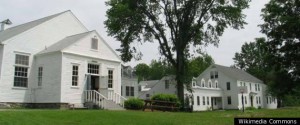 This week we're taking a look at Marlboro College, found in the Green Mountains of southeastern Vermont, two and a half hours from Boston and 20 minutes from the Appalachian Trail.  Marlboro's 350-acre campus includes many buildings that were originally family farm buildings.
Marlboro College is a co-ed, residential, private, liberal arts college that promotes independence by requiring students to participate in the planning of their own programs of study and to act responsibly within a self-governing community.  It has one of the smallest student populations of liberal arts colleges in the United States with just 300 students.  Over 90% of students receive some form of financial aid, including institutional aid. Merit-based scholarships are available to those who qualify.  An interesting fact about Marlboro College is that many campus decisions are made at monthly Town Meetings, where students, faculty, and staff each have an equal vote.
If you like outdoor sports, you might be interested in the Marlboro College Outdoor Program which offers regular sea kayaking, whitewater rafting, caving, climbing, and backpacking outings, along with trips to the area's top ski resorts.
For Marlboro students to graduate they must complete a Plan of Concentration, an integrated and original work of scholarship, in a degree field offered by Marlboro. You can learn more about each individual degree field on their website. However many students choose to follow a more interdisciplinary path, combining chemistry and ceramics, for example, or anthropology and literature for a truly unique course of study all their own.
Marlboro College is featured in Loren Pope's book, "Colleges that Change Lives."
For more information about Marlboro College, visit their website at www.marlboro.edu.