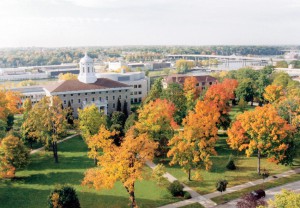 Lawrence University is a residential liberal arts college and conservatory of music, both devoted exclusively to undergraduate education. Lawrence is devoted to Engaged Learning as the most effective way to prepare students for lives of personal fulfillment and professional accomplishment. It is a demanding approach to education for students who demand much of themselves. Engaged Learning takes place in the classroom, the residence hall, the community and all our off-campus and international programs. It is what characterizes a Lawrence education and distinguishes Lawrentians.
At Lawrence, they are fully committed to Engaged Learning. Whether in a practice room in the conservatory or a chemistry class in Steitz Hall or a Freshman Studies discussion, you will learn by doing. By discussing. By participating. By engaging.  Engaged Learning isn't limited to the occasional lab class. It is an integral part of every class taught at Lawrence. There is simply no room at Lawrence for people who expect to sit back and passively listen to a lecture.
Enrollment at Lawrence is approximately 1,500 undergraduate students.  They offer 32 Bachelor of Arts degrees, and 3 Bachelor of Music degrees, and have a student to faculty ratio of 9:1.  Some of their areas of study include East Asian Studies, Chemistry, Economics, Ethnic Studies, Environmental Studies, Anthropology, and Music.
Lawrence University is a member of the Midwest Conference of the NCAA III, and about 25% of its students participate in at least one varsity sport which include football, soccer, volleyball, cross country, basketball, baseball, golf, and more!
Lawrence University is also featured in Loren Pope's book, "Colleges That Change Lives."
For more information about the opportunities Lawrence University can provide you, visit their website at www.lawrence.edu.