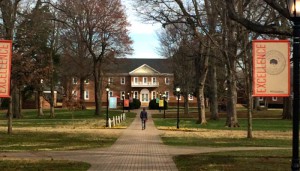 Founded in 1837 by the Society of Friends, known as Quakers, Guilford College inspires each student to achieve excellence through an engaging community, which nurtures creativity and social responsibility. They are guided by their Quaker heritage, instilling community, equality, integrity, peace, and simplicity. In classrooms and on campus, they embrace those principles every day.
Guilford College is a community of open-minded learners who promote positive change in the world. In small class settings, Guilford's caring faculty get to know, challenge and support every student. "Their curriculum focuses on writing, reasoning, class discussions and solving problems–preparing students for the world's future challenges. True to their Quaker commitments, Guilford's diverse and welcoming environment leads to an appreciation and respect for difference. Their alumni succeed in their graduate programs and their jobs because of the transformative academic and personal experiences they had at Guilford.
Guilford offers 36 majors and 54 minors. Their most popular majors are Psychology, Business Management, Biology, English, Health Sciences, and Sport Management. Unique majors include Forensic Biology, Forensic Accounting, and Peace & Conflict Studies. Amazing experiential learning experiences are available at Guilford, including the Guilford Undergraduate Symposium for student research, study abroad opportunities in more than 200 international locations, and professional internship placements in domestic and international locations.
An NCAA Division III school, Guilford offers a full range of athletic teams from women's volleyball and lacrosse to men's football, baseball, and soccer – and more.
Guilford College is located in Greensboro, North Carolina (pop. 277,000), with a metro area population of 1.6 million, and has a total student enrollment of about 2,300.  They are also featured in Loren Pope's book, "Colleges that Change Lives."
For more information about Guilford, visit their website at www.guilford.edu.