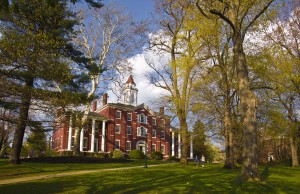 Founded in 1815, Allegheny College ranks among the oldest 1% of colleges and universities and is the 32nd oldest college in the United States.  Approximately 92% of Allegheny's students complete their Bachelor's degree in four years.
Allegheny's undergraduate residential education prepares young adults for successful, meaningful lives by promoting students' intellectual, moral, and social development and encouraging personal and civic responsibility. Allegheny's faculty and staff combine high academic standards and a commitment to the exchange of knowledge with a supportive approach to learning. Graduates are equipped to think critically and creatively, write clearly, speak persuasively, and meet challenges in a diverse, interconnected world.
At Allegheny College they feel so strongly about Unusual Combinations that it's built right into the curriculum. They are one of the few Liberal Arts Colleges that require students to choose a major as well as a minor. Because of this, you'll see many student choose all types of unusual combinations when choosing their focuses: and environmental studies major with a minor in creative writing, a chemistry major with a minor in history. Students combine their interests and expand their concentrations beyond one division, developing the sort of "big picture" thinking that is in high demand in today's global marketplace.
Majors offered include Environmental Science, Music, Biochemistry, Computer Science, English, and many other liberal arts .  At Allegheny, 25% of their students complete in NCAA Division III sports which include football, baseball, women's volleyball, soccer, and much, much more.
Located in Meadville in Northwestern Pennsylvania, Allegheny College enrolls approximately 2,100 undergraduate students and is featured in Loren Pope's book, "Colleges That Change Lives."
For more information about Allegheny College, visit their website at www.allegheny.edu.